Purdue signs tech-focused MOUs with Taiwan universities
Purdue University's Krach Institute for Tech Diplomacy and Ambassador Bi-khim Hsiao, Taiwan's Representative to the U.S., initiate a groundbreaking advancement in strategic technological collaboration to promote freedom and trust globally.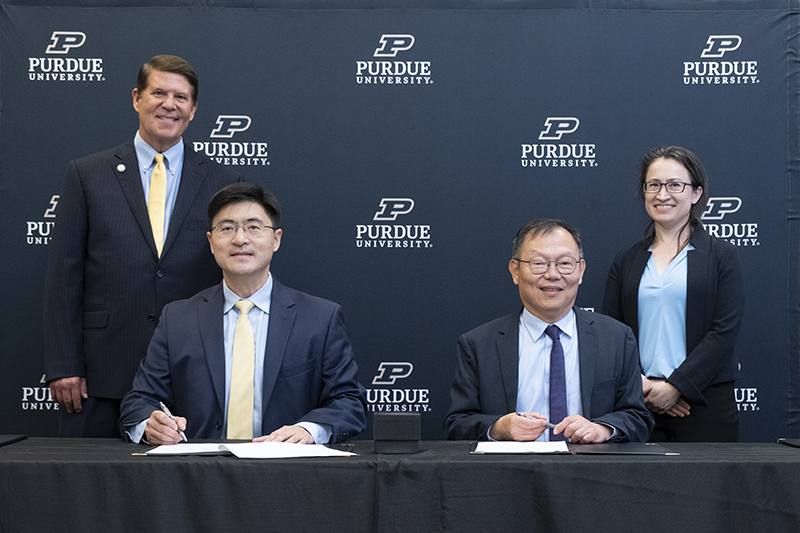 One agreement creates academic research and workforce development opportunities in semiconductors, while the other enhances tech diplomacy efforts
WEST LAFAYETTE, Ind. – In its ongoing efforts to help the U.S. regain preeminence in the semiconductor industry, Purdue University and the Krach Institute for Tech Diplomacy at Purdue on June 15 signed memorandums of understanding with two research universities in Taiwan, the world's largest producer of microchips. The MOUs are in partnership with research universities in Taiwan: National Yang Ming Chiao Tung University (NYCU) in Hsinchu and National Chengchi University (NCCU), a public research university in Taipei.
Purdue President Mung Chiang and NYCU President Chi-Hung Lin signed an MOU to bolster academic research and workforce development efforts in semiconductor-related areas, including NYCU's Semiconductor Workforce Advancement Program. The MOU includes joint research projects, student exchange and internship opportunities, and dual-degree programs.
Additional information
Purdue, TSMC extend partnership on semiconductor research and workforce development
"Since Purdue President Hovde's partnership with the National Cheng Kung University in 1953, our university has enjoyed strong relations with universities in Taiwan for seven decades," Chiang said. "The new partnership with NYCU in the area of semiconductors education and research is another milestone in expanding student mobility, faculty collaboration and industry co-innovation. We look forward to many more decades of such exchanges of ideas and talents."
The second MOU is between National Chengchi University and the Krach Institute for Tech Diplomacy at Purdue. Signed by Krach Institute CEO Michelle Giuda, the MOU's purpose is to promote international cooperation between the two organizations to underpin their shared values and mission to advance freedom by driving the innovation and adoption of trusted technology.
"Securing freedom requires that we bring together – in new ways – high-tech, private-sector know-how technology expertise, such as the leading STEM students and researchers at Purdue or NYCU and NCCU, and foreign policy and national security expertise," Giuda said. "That integrated expertise and partnership – among public and private partners and allies – is required to secure freedom and secure high tech and why we are so excited to strengthen our partnership with Taiwan."
The ceremony comes two months after a delegation from Taiwan's NYCU visited Purdue with a focus on strengthening the collaboration between the two partners in semiconductor initiatives at both institutions.
Purdue announced in April the formation of the President's Semiconductor Task Force to coordinate and lead Purdue's efforts toward innovative research and development through the CHIPS for America and Science Act. Mark Lundstrom, chief semiconductor officer for Purdue and the Don and Carol Scifres Distinguished Professor of Electrical and Computer Engineering, will lead the task force. The task force is a critical component of the Semiconductors@Purdue initiative, which addresses workforce development, research and economic development.
"By leveraging Purdue's strengths in advancing microelectronics technology and by bringing together these leading organizations from across the world, we can speed research and innovation to ensure solutions to the complex production process and supply chain," Lundstrom said.
The agreements were announced as part of a daylong visit to Purdue by Ambassador Bi-khim Hsiao, Taiwan's representative to the U.S.; NYCU president Dr. Lin; and a host of private-sector leaders from MediaTek, Wistron, Telamon and others. It included a fireside chat led by Keith Krach, co-founder and chairman of the Krach Institute, about working together to accelerate the innovation and adoption of trusted technologies. Giuda then hosted an industry forum with U.S. and Taiwan private-sector leaders on the importance of public-private partnerships in ensuring high tech is developed responsibly.
"When democracies stand together, we are force multipliers in advancing freedom and prosperity. That's the foundation of not only U.S.-Taiwan relations, but the growing ties between Taiwan and the Krach Institute for Tech Diplomacy at Purdue," Hsiao said. "I am grateful to President Mung Chiang and Chairman Keith Krach for hosting me and the Taiwanese delegation at the Krach Institute for Tech Diplomacy at Purdue, and I am excited to see the fruits of the partnerships between NCCU-Krach Institute and NYCU-Purdue launched during my visit."
Krach said, "These agreements will considerably enhance the U.S.-Taiwan ties, catalyzing technological innovation and strengthening Taiwan's international partnerships. Our expanding partnership will turbocharge trusted technology and bolster freedom for us all."
The Taiwan delegation continued the visit in Indiana, including meetings with Gov. Eric Holcomb and Indiana Secretary of Commerce Brad Chambers in Indianapolis.
About Purdue University
Purdue University is a top public research institution developing practical solutions to today's toughest challenges. Ranked in each of the last five years as one of the 10 Most Innovative universities in the United States by U.S. News & World Report, Purdue delivers world-changing research and out-of-this-world discovery. Committed to hands-on and online, real-world learning, Purdue offers a transformative education to all. Committed to affordability and accessibility, Purdue has frozen tuition and most fees at 2012-13 levels, enabling more students than ever to graduate debt-free. See how Purdue never stops in the persistent pursuit of the next giant leap at https://stories.purdue.edu.
About the Krach Institute for Tech Diplomacy at Purdue
The Krach Institute for Tech Diplomacy at Purdue is the world's preeminent trusted technology accelerator. As the leader of a new category of tech diplomacy, the institute integrates technology expertise, Silicon Valley strategies and foreign policy tools to build the Global Trusted Tech Network of governments, companies, organizations and individuals to accelerate the development and adoption of trusted technology and ensure technology advances freedom.
Follow the Krach Institute for Tech Diplomacy at Purdue on Twitter, Facebook, LinkedIn, and YouTube. Subscribe to the Institute's weekly newsletter Tech Diplomacy Now for the latest news at the intersection of high tech and foreign policy.