Purdue, TSMC extend partnership on semiconductor research and workforce development
Purdue University's Krach Institute for Tech Diplomacy and Ambassador Bi-khim Hsiao, Taiwan's Representative to the U.S., initiate a groundbreaking advancement in strategic technological collaboration to promote freedom and trust globally.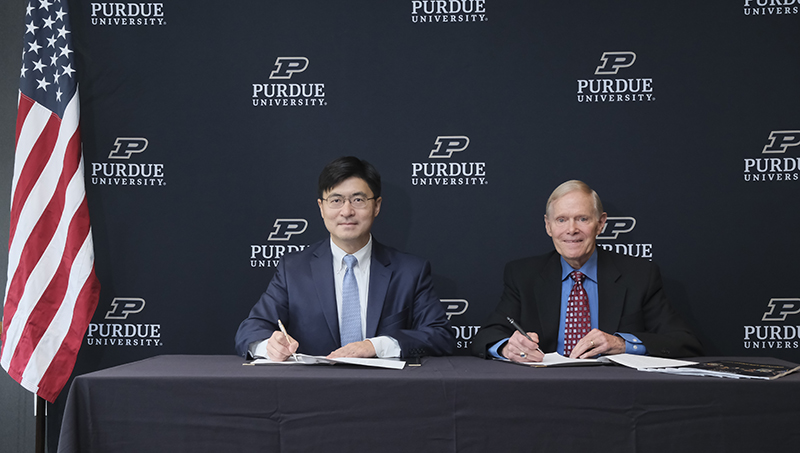 Semiconductor contract manufacturer stands as latest industry leader to join university's global partnerships
WEST LAFAYETTE, Ind. – Purdue University continues to advance semiconductor workforce development by renewing a strong partnership between industry leader Taiwan Semiconductor Manufacturing Co. and the university's Center for Secure Microelectronics Ecosystem.
The renewal of TSMC's membership in CSME represents the desire by both sides to expand their collaborative scope through additional workforce development and research programs through 2031. CSME started in 2021 as a first-of-its-kind global partnership of academia; industry, including TSMC; and government to advance research and workforce development in designing secure microelectronics.
Additional information
The just-signed memorandum of understanding is the latest in a series of recent Purdue partnerships that expand the university's global reach in the semiconductor industry, including three transformative agreements signed in May.
"As America's leading semiconductor university in workforce, research and industry partnership, Purdue is excited to renew, update and expand the collaboration with TSMC, especially in light of the recently announced joint activities with key engineering universities in Taiwan in this area," Purdue President Mung Chiang said. "This is now the fourth global partnership in less than two months –including Belgium, India and Japan – that Purdue has formed to enhance our commitment to the semiconductor ecosystem."
Chiang was joined by Rick Cassidy, chairman of TSMC Arizona, on Monday (June 19) for the agreement signing in the Bottleworks District in Indianapolis, where Purdue is announcing a physical presence in the High Alpha building as part of the new Purdue University in Indianapolis with programs such as the semiconductor degrees.
"At TSMC, we firmly believe that investing in talent is the key to sustainable growth and innovation in the semiconductor industry," Cassidy said. "This partnership with Purdue University is a testament to our shared commitment to advancing the frontiers of knowledge and driving progress in STEM. Through this collaboration, we aim to cultivate the next generation of innovators and leaders by fostering an environment where academia and industry converge."
As part of the partnership extension, TSMC and Purdue will work in tandem on additional educational and research projects. Additional workforce development activities, graduate fellowships and research assistantships are included in the new agreement.
From the beginning, the aim of CSME was to help ensure a secure supply of semiconductor chips and related products and tools, from the foundry to the packaged system, based on a zero-trust model.
The agreement is the latest as part of the Semiconductors@Purdue initiative, which addresses research and workforce and economic development. TSMC is one of the world's largest semiconductor contract manufacturers.
Global connections to advance semiconductor research and workforce development are a persistent pursuit at Purdue, which has established a number of international partnerships since May.
On May 21 Chiang signed a landmark international agreement during the G-7 summit in Hiroshima, Japan. The agreement advances Purdue's efforts in semiconductor production by partnering with Micron, Tokyo Electron and other educational institutions in the U.S and Japan to establish the UPWARDS Network for workforce advancement and research and development in semiconductors.
Chiang signed another agreement to become the flagship academic partner and collaborator with the government of India. As part of the partnership signed on May 9, Purdue is a key collaborator with India and the India Semiconductor Mission in skilled workforce development and joint research and innovation in the burgeoning fields of semiconductors and microelectronics.
In addition, Purdue, the state of Indiana and the Indiana Economic Development Corp. announced a partnership on May 3 with imec, a Belgium-based semiconductor research and development firm. The trans-Atlantic partnership focuses on bringing together world-class expertise and state-of-the-art technology with the exchange of students, faculty and professionals among Purdue, the state of Indiana and Belgium to foster further collaborative research and innovation capacity.
Since 2022 investments in the future workforce and semiconductor research have also drawn innovative neighbors to Purdue. U.S.-owned semiconductor manufacturer SkyWater Technology and Taiwan's MediaTek Inc., the world's fourth-largest chip designer by revenue, have each in the last year announced partnerships with Purdue.
Purdue's Semiconductor Degrees Program addresses the needs of the commercial semiconductor industry by working in close collaboration with 27 senior leaders of the semiconductor industry. The program is a model curriculum to address the critical shortage of talent faced by the U.S. semiconductor industry.
About Purdue University
Purdue University is a top public research institution developing practical solutions to today's toughest challenges. Ranked in each of the last five years as one of the 10 Most Innovative universities in the United States by U.S. News & World Report, Purdue delivers world-changing research and out-of-this-world discovery. Committed to hands-on and online, real-world learning, Purdue offers a transformative education to all. Committed to affordability and accessibility, Purdue has frozen tuition and most fees at 2012-13 levels, enabling more students than ever to graduate debt-free. See how Purdue never stops in the persistent pursuit of the next giant leap at https://stories.purdue.edu.