Purdue University Professor and Nuclear Engineering Expert Lefteri Tsoukalas Joins the Krach Institute for Tech Diplomacy as a Senior Research Fellow
Former U.S. National Security Advisor and Congressional Select Committee on the CCP Member Assume Honorary Co-Chair Positions of the Global Tech Security Commission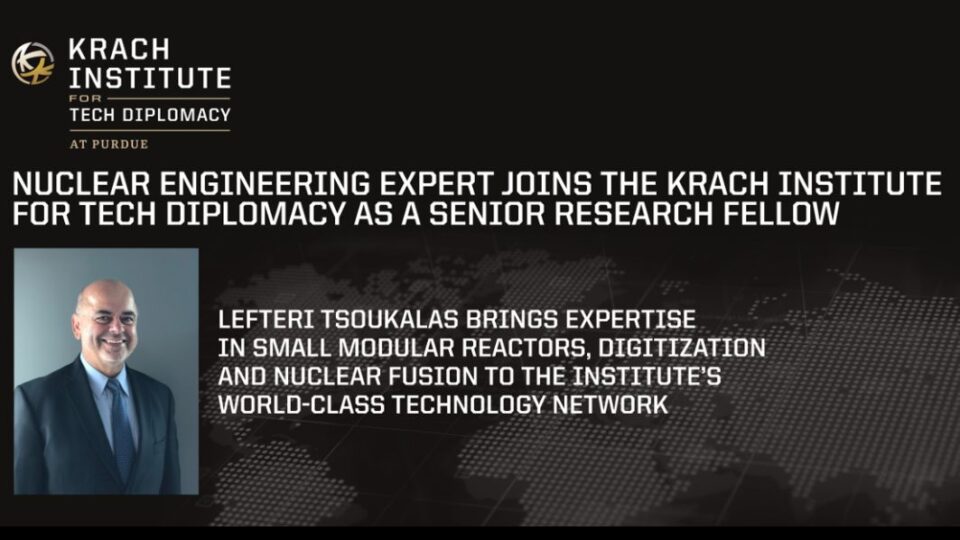 Tsoukalas brings expertise in small modular reactors,
digitization and nuclear fusion to the institute's
world-class technology network
WEST LAFAYETTE, IN & WASHINGTON, D.C – The Krach Institute for Tech Diplomacy at Purdue continues to expand its deep network of world-class critical technology experts with the addition of Purdue University Professor and nuclear engineering expert Dr. Lefteri Tsoukalas as a Senior Research Fellow. As the former head of the School of Nuclear Engineering at Purdue University and former Chairman of the U.S. Nuclear Engineering Department Heads Organization (NEDHO), Tsoukalas boasts extensive engineering leadership and experience in AI and machine-learning methods for nuclear reactor applications.   
"As one of the nation's leading authorities on smart energy, including intelligent systems and control methodologies, as well as nuclear fuel cycle research and policy analysis, Dr. Tsoukalas further accelerates our   tech expertise and leadership of our new category of Tech Diplomacy," said Michelle Giuda, Chief Executive Officer of the Krach Institute for Tech Diplomacy at Purdue. "Advanced nuclear energy technologies play a vital role in  our national and international security, and the Institute is pleased to welcome Dr. Tsoukalas' to help advance our impact in this critical area." 
"Freedom is the oxygen of innovation, and the world needs increasingly more and more innovation to survive and thrive in the future. Tech diplomacy is the most important tool we have for addressing the widespread global challenges of the 21st century," said Dr. Lefteri Tsoukalas. "The United States is on the verge of a renewed nuclear innovation race. In order to address the threats we face, a national focus on small modular reactors (SMRs), digitization and nuclear fusion present great opportunities for global solutions through tech diplomacy in areas that include climate security, international nuclear law and economic prosperity."
Dr. Tsoukalas has three decades of experience in intelligent Instrumentation and Controls (I&C) systems with over 300 research publications, including the books "Fuzzy and Neural Approaches in Engineering" (John Wiley & Sons, New York, 1997), "Advances in Artificial Intelligence-Based Technologies," (Springer, 2022) and "Fuzzy Logic: Applications in Artificial Intelligence, Big Data, and Machine Learning," (McGraw Hill, New York, 2023). Dr. Tsoukalas' international advising includes the OECD/NEA, the IAEA, the Science and Technology Agency of Japan, and Singapore's ASTAR. He is a Fellow of the American Nuclear Society. In 2009, he was honored with the Humboldt Prize, Germany's highest honor for international scientists. 
Editors/Producers: Experts from The Krach Institute for Tech Diplomacy at Purdue are available for media interviews to discuss the following topics: semiconductors, 5G/6G, artificial intelligence, energy/climate, hypersonics, quantum computing, rare earth elements, synthetic biology, composite manufacturing, agricultural technology, global supply chains, nuclear energy,  fintech, and U.S.-China competition.
###
ABOUT THE KRACH INSTITUTE FOR TECH DIPLOMACY AT PURDUE: 
The Krach Institute for Tech Diplomacy at Purdue aims to secure freedom from techno-authoritarian threats by accelerating the widespread innovation and adoption of trusted tech. The bipartisan Institute is the preeminent global authority on Tech Diplomacy, integrating tech expertise, Silicon Valley strategies, and foreign policy tools to build the Global Tech Trust Network of governments, companies and individuals united around a set of shared trust principles and a common mission to ensure that technology advances freedom. 
Follow the Krach Institute for Tech Diplomacy at Purdue on Twitter, Facebook, LinkedIn, and YouTube. Subscribe to the Institute's weekly newsletter Tech Diplomacy Now for the latest news at the intersection of high tech and foreign policy.