Krach Institute Appoints Edtech Veteran Lee Rubenstein as Chief Training and Education Officer to Fortify U.S. and Allied Tech Diplomacy Capabilities
Rubenstein to lead expansion of cutting-edge training programs for diplomats, global executives and policymakers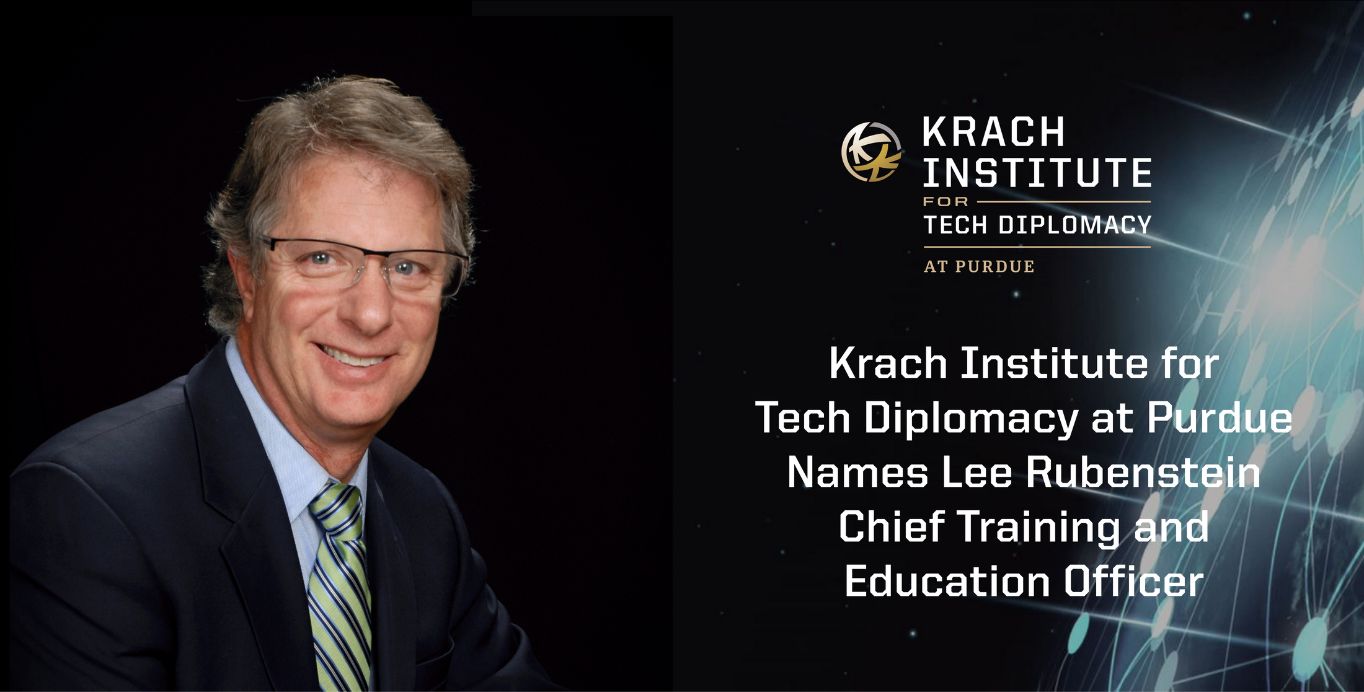 Rubenstein to lead expansion of cutting-edge training programs for
diplomats, global executives and policymakers
WEST LAFAYETTE, IN & WASHINGTON, DC – The Krach Institute for Tech Diplomacy at Purdue, the world's preeminent trusted technology accelerator, continues to expand its senior leadership team with the appointment of global edtech executive Lee Rubenstein as its Chief Training and Education Officer. In this pivotal role, Rubenstein will spearhead the Institute's strategic efforts to train U.S. and allied diplomats, business executives and policymakers in the realm of Tech Diplomacy. By integrating expertise in critical technologies, Silicon Valley strategies and foreign policy, the Institute aims to ensure that technology advances freedom.
Rubenstein brings a wealth of experience from his previous position as Vice President of Business Development and Partnerships at edX, the leading nonprofit online education platform. With a decade-long tenure at edX, Rubenstein was instrumental in creating groundbreaking partnerships, facilitating distribution networks and envisioning global enterprise customer experiences, culminating in substantial revenue generation. His visionary leadership led to influential collaborations with top-tier global entities such as IBM, Microsoft, IMF and the World Bank, among others, fostering expansive recognition and adoption of edX within corporate, government, academic and non-governmental sectors worldwide.
Rubenstein also elevated edX's reach and influence by creating the edX Corporate Advisory Board, which included 25 of the world's largest employers, driving the platform's technical and business evolution. During his tenure, edX flourished to encompass over 160 distinguished course-creation partners from the corporate and higher education spheres, offering over 3,000 courses and engaging more than 40 million registered learners. This remarkable growth yielded over 2 million certifications of completion, solidifying edX as a pioneering force in open-source education.
His influence extended to national platforms, as Rubenstein orchestrated groundbreaking partnerships with governments in Israel, Jordan, France and other nations, thereby establishing his reputation as an instrumental architect of open-source education on a global scale.
"I am honored to join the Krach Institute for Tech Diplomacy at Purdue, an unparalleled institution at the forefront of a novel domain that necessitates expertise in critical technologies, high-tech strategies and foreign policy," Rubenstein expressed. "The Institute's capacity to unite these dimensions in educating and empowering leaders across public and private sectors is unmatched. I am excited to cultivate innovative training and educational programs, propelling the Institute's mission to create a Global Trusted Tech Network committed to advancing freedom through technology."
Michelle Giuda, CEO of the Krach Institute for Tech Diplomacy at Purdue, emphasized the significance of Rubenstein's appointment: "Lee's leadership and extensive experience in global education uniquely position him to enhance our ability to equip allied leaders with the indispensable tech, commercial and foreign policy proficiencies crucial for effective Tech Diplomacy. His joining our team underscores our commitment to delivering cutting-edge learning initiatives to government and corporate partners worldwide."
Keith Krach, Chairman of the Institute, stressed the urgency of understanding the impact of technology on the contemporary geopolitical landscape: "In a world characterized by relentless, multifaceted competition, technology has become the principal battleground. Neglecting the profound influence of high tech on the fate of free societies is not an option. Lee Rubenstein is the perfect fit to elevate our training capabilities, providing transformative Tech Diplomacy education to the leaders who will shape tomorrow."
Rubenstein's addition to the nonprofit Institute's rapidly expanding executive team under the leadership of CEO Michelle Giuda follows the recent appointments of COO Janice deGarmo, CGO Dan Kurtenbach, CRO Marc Carlson and VP of Strategic Initiatives Brad McKinney. His appointment also follows the launch of the Next Generation Tech Diplomacy Leaders Program, a comprehensive platform integrating scholarships, fellowships, internships, virtual mentorship, leadership training and lecture series. The Institute's acquisition of the Global Mentor Network (GMN), a leading virtual mentor network, further exemplifies its commitment to empowering aspiring leaders on a global scale.
###
ABOUT THE KRACH INSTITUTE FOR TECH DIPLOMACY AT PURDUE
The Krach Institute is the world's preeminent trusted technology accelerator. As the leader in the new category of Tech Diplomacy, the Institute integrates technology expertise, Silicon Valley strategies and foreign policy tools to build the Global Trusted Tech Network of governments, companies, organizations and individuals to accelerate the innovation and adoption of trusted technology and ensure technology advances freedom.​
Follow the Krach Institute for Tech Diplomacy at Purdue on Twitter, Facebook, LinkedIn and YouTube. Subscribe to the Institute's weekly newsletter Tech Diplomacy Now for the latest news at the intersection of high tech and foreign policy.