President Tsai receives 'Tech Freedom Award' from U.S. think tank
Keith Krach, who visited Taiwan as the U.S. Under Secretary of State in 2020, was the current U.S. State Department official who visited Taiwan at the highest level in 41 years. 
Source: Focus Taiwan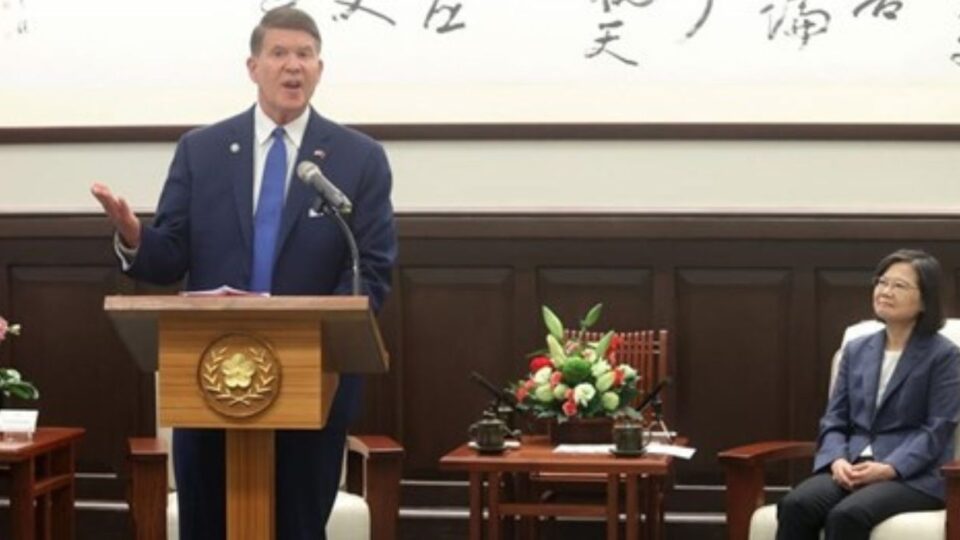 Focus Taiwan
Taipei, Aug. 10 (CNA) Former U.S. State Department official Keith Krach presented President Tsai Ing-wen (蔡英文) with the Krach Institute's "Tech Freedom Award," during a meeting at the Presidential Office in Taipei Thursday.
The Purdue University-based institute bestowed the honor on Tsai in light of her "exemplary leadership in the realm of tech diplomacy and her steadfast commitment to advancing the cause of freedom," according to Krach, who served as Undersecretary of State from 2019 until 2021. "We salute you; we admire you and on behalf of the Krach Institute and free people around the world, we proudly bestow upon you the Tech Freedom Award — may our partnership continue to flourish and inspire the world."
During their meeting, Tsai said that amid the rise of authoritarianism, Taiwan remained committed to partnering with the United States to foster regional and global prosperity. Tsai also recalled the visit of Krach to Taiwan three years ago, who became the highest-ranking incumbent State Department official to visit Taiwan in 41 years in 2020. Krach's presence at the memorial service for late president Lee Teng-hui (李登輝) showcased the U.S.'s support for Taiwan during that visit, she said. She noted that Krach and Purdue University President Mung Chiang co-founded the Krach Institute for Tech Diplomacy at Purdue (KITDP) to actively promote the use of high-end technology to safeguard the world's democracy, freedom and human rights, and also to support Taiwan as a stronghold of democracy and freedom.
Krach said the KITDP launched the "Taiwan Center for Innovation and Prosperity (TCIP)," because without a strong, resilient and free Taiwan, freedoms everywhere would be imperiled by authoritarianism.