Krach Institute for Tech Diplomacy at Purdue Adds Two New Senior Visiting Fellows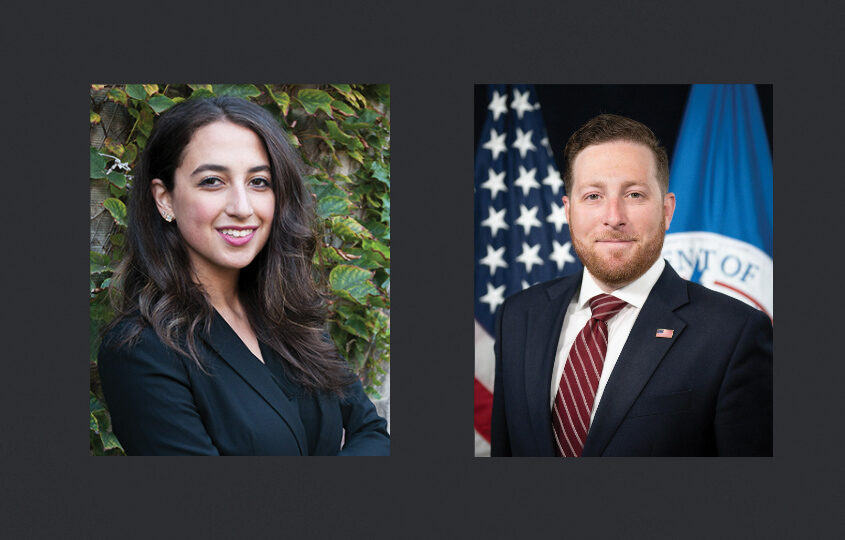 WASHINGTON, D.C. – The Krach Institute for Tech Diplomacy at Purdue announced two new Senior Visiting Fellows, adding new depths of expertise in global supply chains, telecommunications, economic and cyber security, and cryptocurrency to its rapidly expanding cohort of academic and industry leaders who provide policy recommendations and training to decision-makers and diplomats on critical emerging technologies.
The Institute is welcoming Capitol Hill veterans Eliora Katz and Scott Friedman to its ranks. Eliora Katz is a specialist in cryptocurrency and financial services issues that intersect with national security priorities, and Scott Friedman is an expert in supply chain risk management and economic competitiveness in the context of national security and cyber issues.
"Eliora Katz and Scott Friedman are adept at translating the complex geopolitical issues surrounding critical technologies vital to American foreign policy and national security interests," said Institute Director Bonnie Glick. "As the Krach Institute for Tech Diplomacy at Purdue works to bridge the knowledge and experience gaps between innovators and policymakers, their expertise will be invaluable in ensuring U.S. and allied leaders are able to understand emerging technologies and make informed laws and policy decisions."
Eliora Katz is the Director of Government Relations and Policy at FTX US, the fastest growing cryptocurrency exchange in the United States. Prior to FTX US, Katz served as a Professional Staff Member on the U.S. Senate Banking Committee. In this role, Katz covered the intersection of national security and financial services. Her portfolio included the Bank Secrecy Act, anti-money laundering, combating the financing of terrorism, international economic sanctions, the Committee on Foreign Investment in the United States, export controls, cybersecurity, foreign corrupt practices, trade, and the Defense Production Act. She authored the bipartisan Masih Alinejad Harassment and Unlawful Targeting (HUNT) Act and oversaw efforts by FinCEN, BIS, SEC, and the Treasury Department to enhance the integrity of financial systems and advance U.S. economic and geopolitical objectives.
Previously, Katz served as the Egypt Country Director in the office of the Secretary of Defense, as a Morris B. Abram fellow with UN Watch in Geneva, as a Bartley Fellow on the editorial page of The Wall Street Journal, and as a research assistant in the Center for Middle East Policy at the Brookings Institution.
Katz's work has been published in publications including The Wall Street Journal, Newsweek, Tablet, The Hill, National Interest, and SIPA Journal of International Affairs. She studied philosophy, political science, and Persian at the University of Chicago.
"U.S. financial regulators have an opportunity to ensure that the next generation of financial technology and the standards that govern it are driven by the United States and our democratic values," said Katz. "Such positioning will require thoughtful policy direction and is crucial to securing the central role U.S. financial institutions and markets play in the international financial system. The United States must decide if it will establish a position of global leadership in the responsible development of digital assets or whether it will let strategic competitors shape the future of finance."
Scott Friedman most recently served as Senior Policy Advisor to the House Committee on Homeland Security. He is the former Acting Assistant Secretary for Trade and Economic Security at the Department of Homeland Security, where he was responsible for foreign investment risk management, including oversight of the Department's Committee on Foreign Investment in the United States and Team Telecom authorities, assessment of emerging economic threats, and coordination of policy activities with the National Security Council. Friedman also served as Senior Policy Advisor at the Cybersecurity and Infrastructure Security Agency, where he advised the Director and CISA leadership on supply chain and 5G risk management associated with national security threats and vulnerabilities.
Earlier in his career, Friedman worked for Deloitte Consulting LLP as a member of the supply chain practice as an expert in supply chain risk and the intersection of government and commercial supply chains. He started his career as an officer in the United States Army's 82nd Airborne Division, where he deployed twice to Afghanistan for Operation ENDURING FREEDOM. He has a B.A. in International Studies from American University.
"Technology is the bedrock for all future diplomatic engagement," said Friedman. "Whether it be transformational hardware, labor force participation, or value generated from digital assets — how the world comes together, or moves apart, will be determined by how nations come to terms with these defining features of the next generation."
###
EDITORS/PRODUCERS: Director Bonnie Glick and Krach Institute for Tech Diplomacy at Purdue experts and fellows are available for media interviews to discuss the following topics: semiconductors, 5G/6G, artificial intelligence, energy/climate, hypersonics, quantum computing, rare earth elements, synthetic biology, composite manufacturing, agricultural technology, global supply chains, cryptocurrency, and global financial security. They can speak to the geopolitical context for these technologies, and the importance of allied leadership in the global technology arms race.
ABOUT THE KRACH INSTITUTE FOR TECH DIPLOMACY AT PURDUE: The Krach Institute for Tech Diplomacy at Purdue is an independent, non-partisan 501(c)(3) founded in 2021 to advance freedom through trusted technologies and democratic principles. It brings expertise to the intersection of technology and U.S. foreign policy and serves as a go-to resource on critical technology issues for the diplomatic community and policymakers, while partnering with industry, academia, and governments.
For more information, visit www.techdiplomacy.org and follow the Krach Institute for Tech Diplomacy at Purdue on Twitter, LinkedIn, and YouTube.