Goldin's Golden Tech Bits (in Under a Minute)
The Hon. Daniel Goldin
08.08.22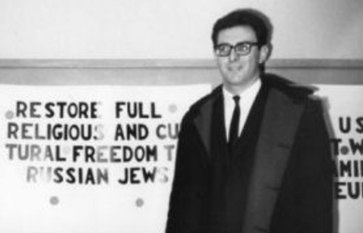 "Anyone Can Be An Agent of Freedom" Part 2
In April 1965, as a 24 year-old NASA engineer, I volunteered to be the youth coordinator for the Cleveland Council on Soviet Anti-Semitism (CCSA). I recruited students and anyone I could in the young adult age range who were part of the Cleveland NASA social scene. By day, I was driven by technology as an electric propulsion researcher at NASA. By night, I was devoted to helping people escape Soviet anti-Semitism and religious injustice.
When the Soviet Moiseyev Ballet came into town as part of the Soviet arts propaganda program, I and my fellow council members and students led a boycott of the ballet's opening performance in Cleveland. The Kremlin in Moscow called us a bunch of "students and housewives".
However, we became acknowledged as a broader human rights cause and ultimately our "student and housewife" movement paved the opportunity for our council to speak to Charles A. Vanik, the Representative of Ohio at the time. Representative Vanik worked diligently to create the Jackson–Vanik Amendment to the Trade Act of 1974, which allowed Jewish refugees and other religious minorities to escape from the Soviet Bloc. Since 1975, over a million Jews and people of other religions were allowed out of Russia during the Cold War.
Anyone can be a change agent and fight for freedom and democracy. You don't have to have been a government official or corporate leader. Hell, we were mostly a group of young NASA engineers, students and housewives. Yet, we still were able to make an impact.
The irony was that when I moved to LA, my daughter's oboe teacher was a Soviet Jew who had escaped from the Soviet Union under the Jackson-Vanik Amendment.
The moral of the story: you can make an impact too.