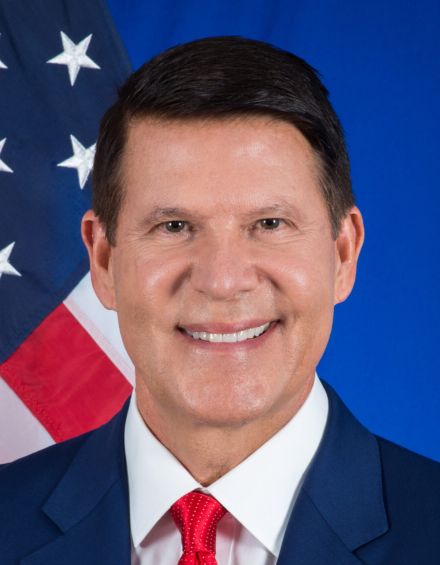 Keith Krach is the Chairman of the Krach Institute for Tech Diplomacy at Purdue and Co-Chair of the Global Tech Security Commission. He is an American businessman, Silicon Valley innovator, philanthropist and public servant, noted for bringing transformational leadership to the fields of robotics, engineering, commerce, education, philanthropy, economic statecraft and even the way people sign. Krach most recently served as Under Secretary of State, leading America's economic diplomacy, having the rare distinction of being unanimously confirmed by the U.S. Senate.
As the nation's top economic diplomat, Krach led the development of the U.S. Global Economic Security Strategy; built the Clean Network Alliance of Democracies to defeat the CCP's 5G masterplan; spearheaded the largest onshoring in U.S. history to secure the semiconductor supply chain; architected the $280B CHIPS and Science Act; strengthened Taiwan ties by orchestrating the Lee Economic Prosperity Partnership, becoming the highest-ranking State Department official to visit in 41 years. Krach earned a nomination for the 2022 Nobel Peace Prize for the Trust Doctrine and its deployment in countering techno-authoritarianism, fortifying global economic security, defending Taiwan's democracy and championing human rights.
Krach served as DocuSign's Chairman & CEO for 10 years, growing the DocuSign Global Trust Network to one Billion users. In 1996, Krach co-founded Ariba and served as Chairman & CEO, creating the world's largest B2B e-commerce network with a market value of $40B, which now transacts $3.7 Trillion/year. He was co-founder/COO of mechanical design software leader Rasna Corporation and the youngest-ever Vice President of General Motors.
Krach is former Chairman of the Purdue Board of Trustees and was Ernst & Young's 2000 National Entrepreneur of the Year and Harvard Business School's 2019 Leader of the Year. He received a B.S. Degree & Honorary Doctorate in Engineering from Purdue and an MBA from Harvard Business School.
There is no greater threat to freedom than advanced technologies in the hands of authoritarian regimes. Securing freedom hinges on securing technology, particularly in high-tech sectors such as 5G, AI, semiconductors, quantum, biotech, and others. While the U.S. can make a significant impact on our own, our strength is multiplied when we stand alongside our friends. The dictator's greatest fear is a united front of free nations.
Work by The Hon. Keith Krach
news
Keith Krach on Fox News talking TikTok dangers