Ukraine war shows America could be outgunned without investing in energetics
Dr. Nadia Schadlow
04.20.22
Source: Breaking Defense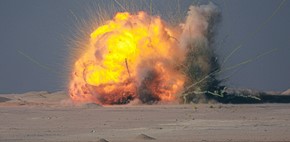 Energetic materials — critical chemicals that help determine the range, size, and explosive power of missiles and rockets — are in dangerously short supply for American interests, write Nadia Schadlow and Brady Helwig of the Hudson Institute.
With Ukraine's military expending munitions as quickly as the US and its partners can get them to the beleaguered country, there are growing questions about whether all sides involved will start running low — including the quantity, and quality, of stockpiles back home. In a new opinion piece, former deputy national security advisor Nadia Schadlow and researcher Brady Helwig say that America's energetic industrial base, already stretched thin, needs new attention in light of the war in Europe. 
Vladimir Putin's invasion of Ukraine has been a wake-up call. Footage of missile strikes and burned-out tanks reminds us that control of territory still matters, and that the explosive power behind munitions like missiles, rockets, and artillery is key to asserting control of the battlefield.