Trailblazing Tech Executive Colette LaForce Joins the Krach Institute for Tech Diplomacy at Purdue, World's Leading Tech Diplomacy Accelerator
Former CMO of AMD and Dell Services Pledges to Advance Freedom Through Trusted Tech as Chief Marketing Officer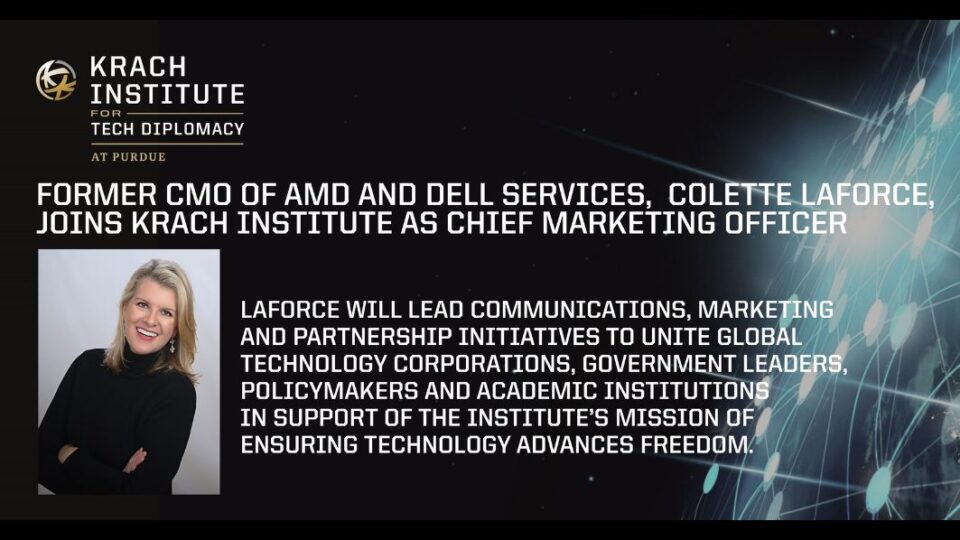 Former CMO of AMD and Dell Services Pledges to Advance Freedom
Through Trusted Tech as Chief Marketing Officer
WEST LAFAYETTE, INDIANA & WASHINGTON, D.C. — October 10, 2023 —The Krach Institute for Tech Diplomacy at Purdue, the world's preeminent trusted technology accelerator, announced today that award-winning technology executive Colette LaForce has joined the organization as its first Chief Marketing Officer. In her new role, LaForce will lead communications, marketing and partnership initiatives to unite global technology corporations, government leaders, policymakers and academic institutions in support of the Institute's mission of ensuring technology advances freedom. 
During her 20-year career as a technology industry executive, LaForce has served as global Chief Marketing Officer at leading technology and professional services organizations including semiconductor giant AMD, spacetech pioneer Antaris, Dell Services, advisory firm ICF and global standards nonprofit NSF International. A former coder, LaForce brings a diverse set of experiences across all aspects of marketing, communications, product development, brand acceleration and go-to-market strategies to the Institute. 
 "I have always believed that technology must be used for the good of humankind—and never to oppress or disadvantage others," shared LaForce. "The opportunity to take more than two decades of experience across the entire technology stack and apply that to the mission of advancing trusted tech is both an honor and a tremendous opportunity. The Krach Institute's brand equals results. Its work, together with Purdue University, is unparalleled, and our commitment to providing strategies, solutions, training and education to accelerate the innovation and adoption of trusted tech is a mission I'm delighted to be a part of."  
 LaForce's technology industry experience includes marketing leadership roles in critical tech sectors including semiconductors, spacetech, cleantech, cloud computing, IT services, data center technology and software. Throughout her career she has been named one of the 50 Most Powerful Women in Technology, a Fierce 15 CMO, Top 50 CMOs to Watch and was twice voted CMO Leader of the Year by peers.  
 Michelle Giuda, CEO of the Krach Institute, said, "Colette brings a wealth of leadership and marketing experience across the tech sector at global multi-nationals and start-ups alike. Her propensity for innovation will help us elevate the new category of Tech Diplomacy, engage critical stakeholders in our mission globally and across sectors, and advance the message of freedom through trusted tech. Her energy and passion for both high-tech and trust principles have been evident throughout her storied career, and we are so pleased to welcome her to the Institute and Purdue University." 
 Chairman Keith Krach emphasized, "Colette LaForce's appointment as Chief Marketing Officer marks a significant milestone for the Krach Institute. As a luminary in the tech industry, her visionary insights and expertise will play a crucial role in amplifying the brand of trusted tech worldwide, paving the way for a future where technology empowers freedom. Colette's exceptional leadership and marketing prowess will also serve as a cornerstone in our efforts to forge the Global Trusted Tech Network, uniting nations, businesses, institutions, civil society, and global leaders."  
 LaForce is also active in board and advisory services, and currently serves as an independent Director and Committee Chair at energy and renewables engineering leader Ulteig and as Board Chair of Farms Work Wonders, an award-winning youth development nonprofit in Appalachia. She also serves as an Advisor to Antaris, clean fuels disruptor Infinium and FGM Architects.  
She is a graduate of the University of Notre Dame and was a member of the university's D1 swimming team. LaForce is based in the Washington, D.C. area.  
 Parties interested in learning more about the Krach Institute for Tech Diplomacy at Purdue or becoming a member of the Global Trusted Tech Network are encouraged to connect with LaForce via LinkedIn or email trustedtech@techdiplomacy.org for more information.  
ABOUT THE KRACH INSTITUTE FOR TECH DIPLOMACY AT PURDUE 
The Krach Institute is the world's preeminent trusted technology accelerator. As the leader in the new category of Tech Diplomacy, the Institute integrates technology expertise, Silicon Valley strategies and foreign policy tools to build the Global Trusted Tech Network of governments, companies, organizations and individuals to accelerate the innovation and adoption of trusted technology and ensure technology advances freedom.​ 
Follow the Krach Institute for Tech Diplomacy at Purdue on Twitter, Facebook, LinkedIn and YouTube. Subscribe to the Institute's weekly newsletter Tech Diplomacy Now for the latest news at the intersection of high tech and foreign policy. 
Press contact:
Alvin Jordan
Rokk Solutions
Alvin@RokkSolutions.com