Krach Institute for Tech Diplomacy at Purdue Welcomes Bonnie Glick as Tech Tank's New Director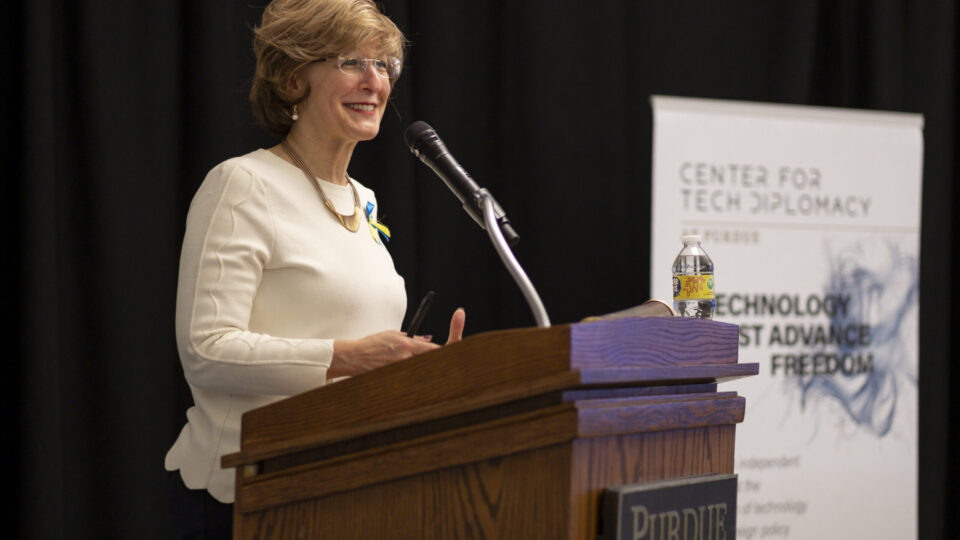 Glick will lead the Institute's mission of advancing technology for freedom
WEST LAFAYETTE, Ind., and WASHINGTON, September 21, 2021 — The Krach Institute for Tech Diplomacy at Purdue today announced that Bonnie Glick will be the inaugural Director of the Institute, a first-of-its-kind "tech tank" focused on the intersection of technology and foreign policy. Dr. Mung Chiang, Dean of the Purdue College of Engineering and Executive Vice President of Purdue University, who has been the Founding Director of the Krach Institute, will continue to serve on its board.
Glick brings with her decades of experience in policy, diplomacy, technology, and academia, most recently serving as the Senate-confirmed Deputy Administrator and Chief Operating Officer of the United States Agency for International Development, managing the Agency's more than $20B budget, 11,000 staff and employees, and operations in 100 countries worldwide. In her USAID role, Glick championed many issues relevant to the Institute's work, including digital transformation, the significance of 5G as a development priority in emerging markets, private sector engagement, and democracy and governance.
"Our success in recruiting a renowned and respected leader like Bonnie Glick reflects the unique importance of the Krach Institute's mission and the value this new organization can bring," said Mitch Daniels, President of Purdue University and Chairman of Purdue Research Foundation. "We are proud to welcome back home such a leader from the Midwest who has been outstanding both as a career diplomat and as a tech business executive. In addition to leading the think tank, Bonnie will no doubt also contribute to the education of both students and U.S. foreign service officers."
"We couldn't be more excited to welcome Bonnie as the new Director of the Krach Institute for Tech Diplomacy at Purdue," added Dr. Chiang. "Her breadth of experience across policy, diplomacy and technology makes her the perfect candidate to lead this tech tank in advancing tech diplomacy. The intersection between technology and U.S. foreign policy will significantly benefit from her leadership."
Glick formerly served as the Deputy Secretary of the Maryland State Department of Aging, and earlier in her career spent 12 years at IBM, including five years in the Research Division, where she co-authored three patents. She has also served as an American diplomat with international assignments in Africa, Asia, and Latin America and domestic assignments in the State Department, the White House, and the United Nations.
"I look forward to working closely with Bonnie to engage and convene policymakers, diplomats, and partners in both the public and private sectors to develop a robust tech diplomacy agenda in the U.S. and among like-minded nations," said Keith Krach, Chairman of the Institute's Advisory Board. "Bonnie, like all of us at the Krach Institute, believes deeply that technology must advance freedom, and her decades of experience in both the policy and tech arenas make her uniquely qualified to lead this important and complex effort."
As Director of the Krach Institute for Tech Diplomacy, Glick will focus the Institute's work on two main lines of effort. First will be providing policymakers with informed recommendations, analyses, and papers on ways to view national security through a technology lens — this could be in the realm of 5G/6G, semiconductors, artificial intelligence and machine learning, synthetic biology, cybersecurity, hypersonics, or any other relevant technologies. Second will be offering training to policymakers in the United States on how to address the importance of technologies developed in our country. As a historically generous country, the United States has contributed to the economic success of dozens of countries through great innovations developed in America. Training policymakers across multiple U.S. Government agencies to be conversant in said innovations is a priority for the Institute.
"As we usher in a new era of international relations focused on and influenced by technology, I am honored to lead the first think tank at that intersection," said Bonnie Glick, Director of the Krach Institute. "Tech diplomacy is about ensuring that the proliferation of technology benefits individuals, societies, and markets around the world. This is one of the critical, non-partisan issues of our time, and I am immensely proud to be a part of this important work."
About the Krach Institute For Tech Diplomacy At Purdue
The Krach Institute for Tech Diplomacy at Purdue is an independent think tank founded in 2021 to advance technology for freedom. It brings engineering expertise to the intersection between technology and U.S. foreign policy for national security, human rights, freedom, democracy, and prosperity. As American's "tech tank," the Krach Institute serves as the go-to resource on critical technology issues for the diplomatic community, and partners with industry, academia, and other thought leaders in the U.S. and like-minded nations. For more information, please visit www.techdiplomacy.org or contact techdiplomacy@prf.org.