Krach Institute for Tech Diplomacy at Purdue Names Daniel Kurtenbach Chief Growth Officer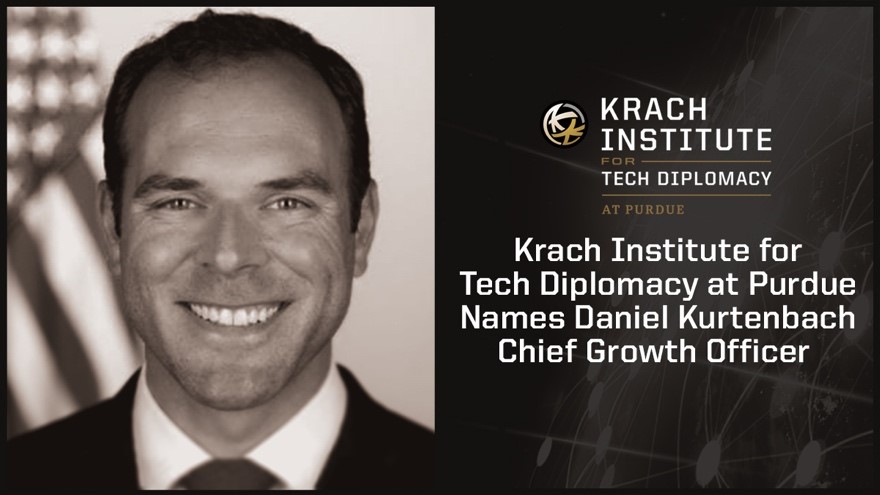 Former U.S. Army Officer, High-Tech Sector Leader and Former
White House Fellow Bolsters Institute's Leadership Team
WEST LAFAYETTE, IN, and WASHINGTON, DC – The Krach Institute for Tech Diplomacy at Purdue continues to expand its senior leadership team with the appointment of Daniel Kurtenbach as Chief Growth Officer. In the new role, Kurtenbach will focus on driving the growth of the Institute through strategic partnerships with companies, institutions and countries that enhance the Institute's capabilities, expand its global reach and impact, and promote the Institute's ultimate mission to build a Global Trust Network that advances freedom through trusted technology.
Kurtenbach joins the Institute from DataRobot, where he served as Director of the company's defense and intelligence portfolio. From 2020-2021, Kurtenbach was a White House Fellow assigned to the Office of the Vice President and Small Business Administration. Previously, he was an Operations Program Manager on Apple's Core Technologies team in Silicon Valley. Kurtenbach also spent nine years in the Army as a Special Forces and Infantry Officer with operational deployments throughout the Middle East and Indo-Pacific regions.
"I'm excited to welcome Dan as the Institute's Chief Growth Officer. His experience and accomplishments as an Army officer, tech executive, scholar and a White House Fellow make him an outstanding addition to our team," said Keith Krach, the Institute's Chairman. "Dan's exceptional leadership skills, professionalism, demonstrated high level of performance, and record of public service will continue to raise the incomparable value the Institute offers our partners in the United States and the free world as we strive to safeguard our democratic values."
"In this new high-tech, high-stakes geopolitical era, we know that partnership at scale is essential to advancing the widespread adoption of trusted tech," said Institute Director Michelle Giuda. "We are thrilled that Dan is joining the Institute to lead our growth in this effort. His track record of service, leadership and commitment to freedom, coupled with his experience across the high-tech, public and private sectors, will ensure we bolster our capabilities as the leader of a new category of Tech Statecraft, deliver value to partners across countries, companies and organizations, and achieve our mission to build a Global Trust Network to secure freedom."
"The Krach Institute for Tech Diplomacy at Purdue has created a category of its own. As part of the nation's leading national security university, it is rapidly becoming the world's premier institution focused on Tech Statecraft, a new model of diplomacy bridging the gap between technology experts, government officials and policymakers, and business leaders to ensure tomorrow's tech secures our freedoms," said Kurtenbach. "I'm excited to contribute to the Krach Institute's already-impressive momentum by enhancing and building its innovative partnerships and relationships to achieve our shared vision of a future that prizes individual freedom through trusted technology."
Kurtenbach earned his MBA from the MIT Sloan School of Management, MPA from the Harvard Kennedy School and BS from the U.S. Military Academy at West Point. He is currently a doctoral candidate at Johns Hopkins University, where he researches defense technology innovation and its effect on America amid great power competition. He is also a Term Member with the Council on Foreign Relations and a member of Business Executives for National Security.
Since its founding in 2021, the nonpartisan Krach Institute for Tech Diplomacy has harnessed Purdue University's leadership in innovative research, commercialization, STEM education, corporate partnerships and national security to advance the field of tech diplomacy and tech statecraft, a new transformational model of diplomacy that integrates Silicon Valley high-tech strategies and foreign policy tools to rally allies, leverage the private sector and amplify democratic values based on trust.
In partnership with the Atlantic Council, the Krach Institute for Tech Diplomacy at Purdue launched the Global Tech Security Commission in 2022 to safeguard freedom from technological authoritarianism. Commissioners from fifteen countries and twelve critical tech sectors unite in a unique public-private partnership to develop the Global Tech Security Strategy for building the Global Tech Trust Network, define overarching Tech Trust Standards and accelerate the adoption of trusted technology. The Commission is co-chaired by Institute Chairman and former Under Secretary of State Keith Krach and Kersti Kaljulaid, former president of Estonia.
###
 ABOUT THE KRACH INSTITUTE FOR TECH DIPLOMACY AT PURDUE:
The Krach Institute for Tech Diplomacy at Purdue is the world's preeminent institution focused on Tech Statecraft, a new model of diplomacy that bridges the high-tech sector with the foreign policy and national security sectors to ensure trusted technology is used to advance freedom.​ The Krach Institute for Tech Diplomacy is a nonpartisan 501(c)(3) that leverages Purdue's strength in innovation, deep expertise in technology, and global prowess in educating transformational leaders. For more information, visit www.techdiplomacy.org and follow the Krach Institute for Tech Diplomacy at Purdue on Twitter, LinkedIn, and YouTube.
CONTACT: James Nash
Email: james@rokksolutions.com
###
Editors/Producers: Experts from The Krach Institute for Tech Diplomacy at Purdue are available for media interviews to discuss: semiconductors, 5G/6G, artificial intelligence, energy/climate, hypersonics, quantum computing, rare earth elements, synthetic biology, composite manufacturing, agricultural technology, global supply chains, cryptocurrency, and global financial security.