Krach Institute for Tech Diplomacy at Purdue Celebrates One-Year Anniversary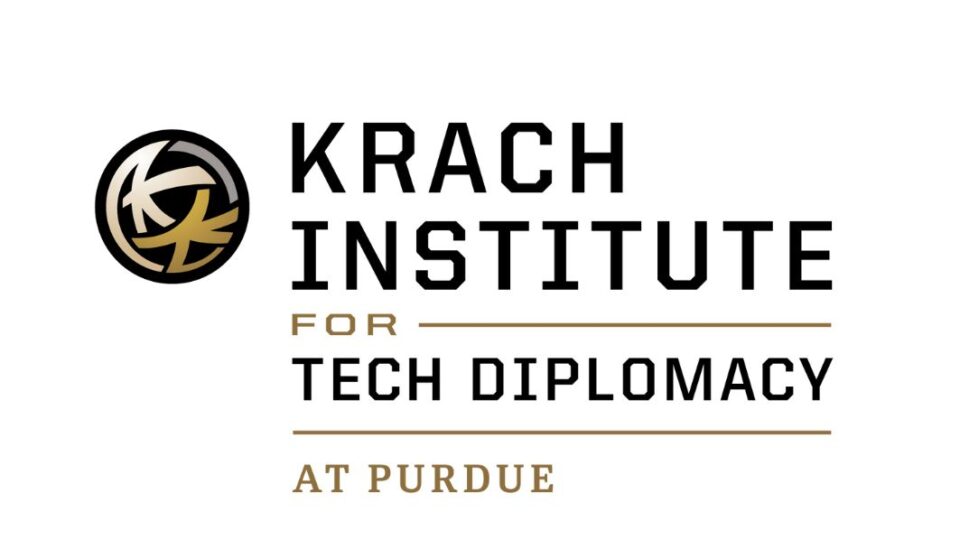 WASHINGTON – The Krach Institute for Tech Diplomacy at Purdue, the preeminent authority for advancing freedom ​by integrating technological innovation with statecraft, is celebrating the one-year anniversary of its founding. Under the leadership of Purdue University President-elect Dr. Mung Chiang, Director Bonnie Glick, and Advisory Board Chairman Keith Krach, the Institute leverages the expertise of Purdue University and diplomatic leaders to bridge the knowledge and experience gaps between innovators and policymakers on critical and emerging technologies vital to U.S. foreign policy and national security interests.
Throughout the last year, the Krach Institute for Tech Diplomacy at Purdue added more than 20 distinguished experts to its diverse and fast-growing team of fellows, expanding its subject matter expertise on tech issues shaping 21st century diplomacy, including: 5G/6G, artificial intelligence, energy and climate, hypersonics, rare earth elements, semiconductors, quantum computing, synthetic biology, agricultural technologies, digital currencies, supply chains, and advanced manufacturing.
In partnership with Purdue University, the Institute's expert cohort developed and deployed workshops and training programs for policymakers focused on emerging tech sectors including  hypersonics, artificial intelligence, and global semiconductor supply chains. The Institute has facilitated international gatherings and thought-provoking discussions, including the inaugural Bilateral Tech Diplomacy Series with U.S. and Australian academic, industry, and diplomatic leaders on aerospace technologies, misinformation, and disinformation. At its first Tech Freedom Awards held last month, the Krach Institute for Tech Diplomacy at Purdue recognized the Honorable Daniel S. Goldin, the longest-tenured NASA Administrator, and mobile network operator and infrastructure company Africell, for their work advancing freedom through trusted technologies.
"The Krach Institute for Tech Diplomacy at Purdue was founded because there is a bipartisan and growing appreciation for the inextricable links between technological advancements and global statecraft," said Institute Director Bonnie Glick. "The Institute is proud to be a global convener dedicated to ensuring leaders of the United States and like-minded nations understand critical and emerging technologies and make informed laws and policy decisions that advance democracy and human rights."
###
Editors/Producers: Experts from The Krach Institute for Tech Diplomacy at Purdue are available for media interviews to discuss the following topics: semiconductors, 5G/6G, artificial intelligence, energy/climate, hypersonics, quantum computing, rare earth elements, synthetic biology, composite manufacturing, agricultural technology, global supply chains, cryptocurrency, and global financial security. 
ABOUT THE KRACH INSTITUTE FOR TECH DIPLOMACY AT PURDUE: 
The 
Krach
Institute
for
Tech
Diplomacy
at
Purdue
 is an independent, non-partisan 501(c)(3) founded in 2021 to advance freedom through trusted 
tech
nologies and democratic principles. It brings engineering expertise to the intersection of 
tech
nology and U.S. 
for
eign policy and serves as a go-to resource on critical 
tech
nology issues 
for
the diplomatic community and policymakers, while partnering with industry, academia, and government.
For
 more information, visit www.
tech

diplomacy.org
and follow the
Krach
Institute
for
Tech
Diplomacy
at
Purdue
 on
Twitter
,
LinkedIn
, and
YouTube
.