Krach Institute for Tech Diplomacy at Purdue Announces New Senior Research Fellow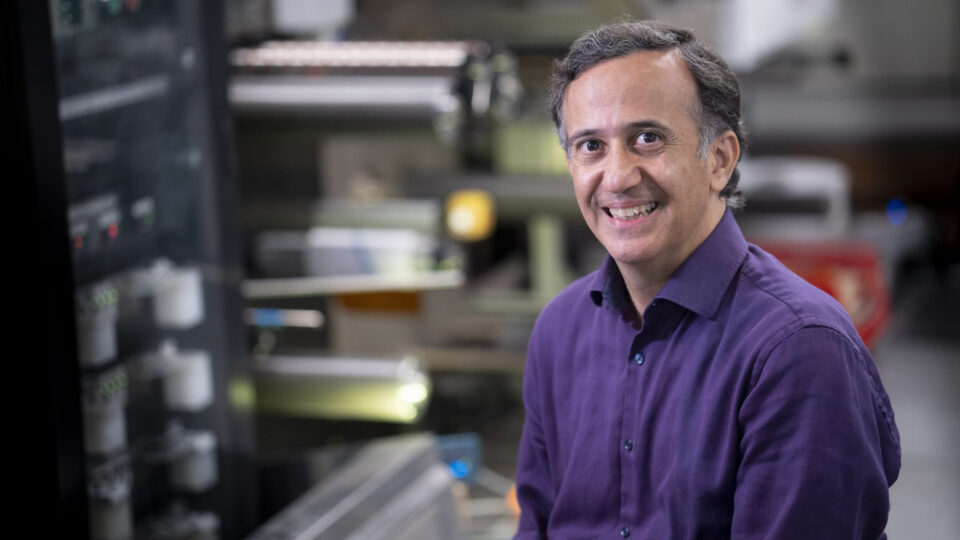 Dr. Ali Shakouri Brings Industry-Leading Expertise in Microelectronics and Nanotechnology
WASHINGTON – Dr. Ali Shakouri has joined the Krach Institute for Tech Diplomacy at Purdue as a Senior Research Fellow to lead best-in-class research at the nexus of technological innovation and the practice of diplomacy. Dr. Shakouri, a Professor at the Elmore Family School of Electrical and Computer Engineering at Purdue, is the Director of the SMART Consortium, a multidisciplinary research center in University's Birck Nanotechnology Center dedicated to supporting the fast development of low-cost, high-volume Internet of Things (IoT) devices.
At the SMART Consortium, Dr. Shakouri leads a team of more than 40 faculty, researchers and students spearheading research ranging from novel materials and devices, manufacturing scale-up, device optimization and data analytics. Leveraging industry support, members of the SMART Consortium test low-cost IoT devices for applications in digital agriculture, next-generation manufacturing, smart infrastructure and healthcare. As Principal Investigator for Purdue's partnership with the Wabash Heartland Innovation Network, Dr. Shakouri leads a consortium of 10 counties in north-central Indiana harnessing the power of internet-enabled sensors to develop the region into a global epicenter of digital agricultural and next-generation manufacturing.
"While advances in IoT technologies and data analytics have the potential to help solve society's greatest challenges across energy, agriculture and manufacturing, we can fuel innovation in emerging technologies by bridging research with strategic, real-world applications," said Dr. Shakouri. "I am delighted to be a part of the Institute's efforts to educate U.S. and allied leaders on critical technologies like semiconductors that are not only key to sustaining high-tech ecosystems, but are vital to our national security interests."
Dr. Shakouri joined Purdue University in 2011 to lead the Birck Nanotechnology Center, one of the most advanced nanotechnology facilities on a university campus anywhere in the world. Under his leadership, the Birck Nanotechnology Center grew beyond its original focus areas of nanoelectronics, photonics and quantum science to support a wide array of multidisciplinary nanotechnology research and outreach on campus, including biotechnology, nanomedicine, pharma manufacturing, printed electronics and sensors.
"The breadth and depth of Dr. Shakouri's experience in microelectronics and nanotechnology will be incredibly valuable to policymakers and members of the diplomatic corps. His appointment as a Senior Research Fellow is especially timely as we combat an ongoing semiconductor chip shortage and explore the range of capabilities to deploy nanotechnology in sectors ranging from smart agriculture to smart energy and beyond," said Bonnie Glick, Director of the Krach Institute for Tech Diplomacy at Purdue. "These technologies are the backbone of our digital economy, and we must ensure they are designed and developed in the U.S. and allied countries."
Prior to joining Purdue University, Dr. Shakouri was a Professor at University of California at Santa Cruz directing its multi-university Thermionic Energy Conversion center and initiating a new curriculum in Sustainability Engineering and Ecological Design. He received his undergraduate degree from Telecom ParisTech and doctorate from Caltech. Dr. Shakouri is a recipient of NSF CAREER Award, the Packard Fellowship and the THERMI Award.
###
ABOUT THE KRACH INSTITUTE FOR TECH DIPLOMACY AT PURDUE
The Krach Institute for Tech Diplomacy at Purdue is an independent, non-partisan 501(c)(3) founded in 2021 to advance freedom through trusted technologies and democratic principles. It brings engineering expertise to the intersection of technology and U.S. foreign policy and serves as a go-to resource on critical technology issues for the diplomatic community and policymakers, while partnering with industry, academia and government.
For more information, visit www.techdiplomacy.org and follow the Krach Institute for Tech Diplomacy at Purdue on Twitter, LinkedIn, and YouTube.