Goldin's Golden Tech Bits (in Under a Minute)
The Hon. Daniel Goldin
04.12.22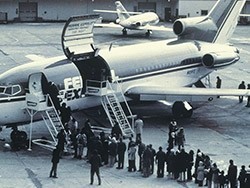 "Fred Smith Just Retired"
Fred Smith, who I met and worked with briefly on aviation matters during my tenure at NASA, recently announced his retirement as CEO and Chairman of FedEx.
For those who don't know, the origins of FedEx (paraphrased from website): 
In 1965, Fred wrote a term paper about the logistical challenges facing IT companies. Most airfreight shippers relied on passenger route systems, but those didn't make economic sense for urgent shipments. He proposed a system specifically designed to accommodate time-sensitive shipments such as medicine, computer parts, and electronics. Fred bought controlling interest in Arkansas Aviation Sales and he saw how difficult it was to get packages delivered within one to two days. 
Thus the idea for the company was born and he believed "Federal Express" would suggest an interest in nationwide economic activity.
In a time when we buy items with one click of a button and get them delivered right to our doorstep, we take for granted the brilliant machine that enables affordable e-commerce – delivery logistics. Trust me, life was not always this easy!
As we all know, e-commerce has exploded during COVID. In 2020, there were 55 million parcels delivered each day and analysts believe that number will grow to 100 million by 2025. This could only be possible thanks to the ingenuity of business creatives like Fred Smith who coupled aviation with emerging technologies like robotics, automation and digitization to improve on-ground logistics and route scheduling. The result is that now we receive our packages quickly, affordably and reliably and entrepreneurs of all types regardless of their socioeconomic or educational backgrounds can succeed in e-commerce.
Talk about a man who has multiplied the enterprising spirit of America! And it all started with a thought experiment in a term paper.