Global Tech Security Commission Co-Chair Keith Krach and Biden "Chief Technology Protection Officer" Alan Estevez Deliver Briefing on Advancing Freedom Through Trusted Tech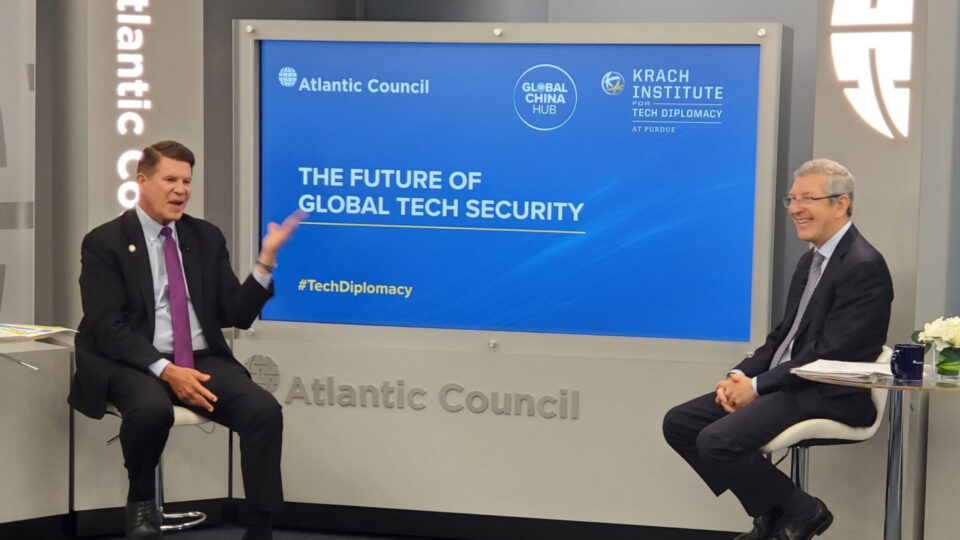 U.S. Commerce Department Backs Krach Institute for Tech Diplomacy and Atlantic Council's Launch of the Global Tech Security Commission
WASHINGTON–The Atlantic Council and the Krach Institute for Tech Diplomacy at Purdue jointly hosted an exclusive briefing featuring U.S. Under Secretary of Commerce for Industry and Security Alan Estevez and Global Tech Security Commission co-chair and former Under Secretary of State Keith Krach. Under Secretaries Estevez and Krach discussed the Global Tech Security Commission's urgent mission of securing high tech from the growing techno-authoritarian threats. The Commission also has the support of lawmakers and private-sector leaders at a time when the United States is working to unite its Transatlantic and Indo-Pacific allies and partners across a range of critical technology issues.
"It's a great honor to be here with Alan as we launch the Global Technology Security Commission. It just seems like a few weeks ago I was here with President Biden's 'Asia Czar' Kurt Campbell. We were talking about building alliances with the 'Trust Principle.' We appreciated his support for the Krach Institute and this Commission as well," said Keith Krach. The former CEO of DocuSign and Ariba continued: "China's attempt to portray itself as a misunderstood and well-intentioned global partner has failed. Companies doing business with China have endured parasitic joint ventures, blatant thievery of intellectual property, a world-wide bullying spree, and the coerced collection of proprietary technology. Corporate boards increasingly understand doing business with, in, or for China represents tremendous risk and why many respected board members are demanding a China contingency plan from their CEOs."
"Any American company, and certainly any allied company as well, needs to be looking and assessing their risk calculus based on what's going on in the world today. …I've given a lot of thought to the need to protect our technology from our adversaries who will use it against other nations and frankly, against us, as well as their own people. I view my job at Commerce as the job to deny our adversaries access to those advanced technologies," said Under Secretary Estevez at his first public appearance in his current role. He concluded, "I am more than happy to work with the Krach Institute and am all in on the Commission."
The Commission's Global Tech Security Strategy is designed to complement recent multinational efforts to counter authoritarianism, such as the Indo-Pacific Economic Framework and Future of the Internet Declaration, by building a public-private coalition to promote democratic trust principles, digital trust standards and widespread adoption of trusted technology emphasizing transparency, reciprocity and adherence to international law.
Three factors make the Commission's scope uniquely strategic for countering techno-authoritarian threats. First, the Commission will focus on in-depth strategies in 17 critical tech sectors and integrate them into an overarching Global Tech Security Strategy. Second, the scope will be global and private sector led, with commissioners from international companies and institutions representing more than a dozen countries as part of democracies' common effort to compete in emerging technologies. Third, while previous commissions have primarily focused on analysis of problems with recommendations limited to defensive policies, the Global Tech Security Commission will integrate offensive and defensive strategies while beginning to build the Global Tech Trust Network, define overarching Tech Trust Standards, and accelerate the adoption of trusted technology.
Krach also delivered a briefing on leveraging Tech Diplomacy to build trusted alliances with the Biden Administration's Coordinator for Indo-Pacific Affairs at the U.S. National Security Council, Kurt Campbell, where Campbell pointed to the continuation of policies initiated by Krach's team during his public service: "One of the rarest things in government is continuity of programs because when a new government comes in, they think, 'I've got a better idea and I am going to do it differently.' Almost all the work that Keith did at the State Department, including trusted networks, the Blue Dot initiative, etc., have been followed on in [the Biden] Administration and, in many respects, that's the highest tribute."
The briefing culminated with powerful remarks from former President of Estonia and Global Tech Security Commission Co-Chair Kersti Kaljulaid, who emphasized that all the technology that China and Russia have is controlled by their governments. She said, "They overreach using their economic might to try to conquer the world. They can subdue their own citizens, their own people, more efficiently and effectively, of course, using technology. The Free World is now facing the test. We need to stick together. It may take time, but we will prevail. But of course, we do not prevail all by ourselves. We will prevail because we cooperate. And for that we need Global Tech Security Commission. So, thank you, Krach Institute for Tech Diplomacy and Atlantic Council for this opportunity."
The Krach-Estevez event continues the Krach Institute for Tech Diplomacy at Purdue's bipartisan approach to Tech Diplomacy. In addition to ongoing engagement with both sides of the aisle on Capitol Hill, as well as with the State and Commerce Departments, the Institute's Chairman Keith Krach and Director Bonnie Glick were invited by U.S. Secretary of Commerce Gina M. Raimondo to offer advice on the national imperative of securing the semiconductor supply chain.
Watch the full Krach-Estevez briefing here.
About the Krach Institute for Tech Diplomacy at Purdue:
The nonpartisan Krach Institute for Tech Diplomacy at Purdue is the world's preeminent institution focused on Tech Statecraft, a new model of diplomacy that bridges the high-tech sector with the foreign policy and national security sectors to ensure trusted technology is used to advance freedom.​ The Krach Institute for Tech Diplomacy is a 501(c)(3) that leverages Purdue's strength in innovation, deep expertise in technology, and global prowess in educating transformational leaders. It focuses on rallying our allies, leveraging the innovation of the private sector, and amplifying democratic values based on trust.
For more information, go to techdiplomacy.org. Follow the Krach Institute for Tech Diplomacy at Purdue on Twitter, LinkedIn, and YouTube. Please contact press@atlanticcouncil.org and techdiplomacy@prf.org for media inquiries about the Global Tech Security Commission.