From Purdue University: US-Europe semiconductors collaboration milestone as Purdue, imec, Indiana announce partnership
The Krach Institute for Tech Diplomacy at Purdue today announced the creation of the Next Generation Tech Diplomacy Leaders Program following the acquisition of the Global Mentor Network (GMN), the world's leading virtual mentor network. The Institute's next gen program combines scholarships, fellowships, internships, virtual mentorship, leadership training and lecture series into an integrated platform to accelerate the development of tomorrow's transformational Tech Diplomacy leaders.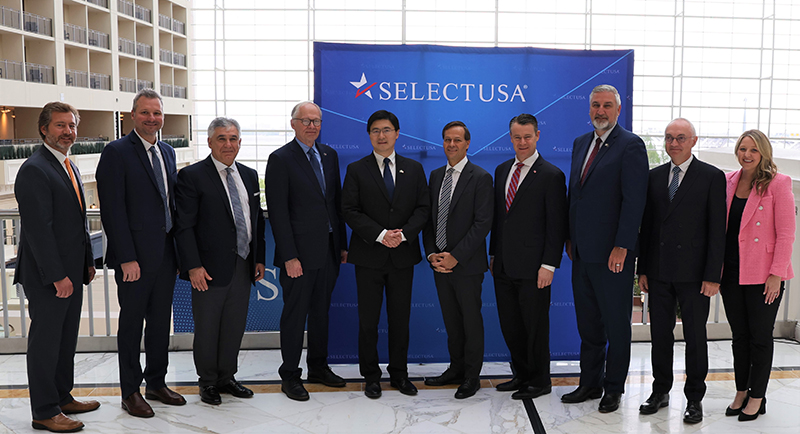 WEST LAFAYETTE, Ind. – Purdue University and the state of Indiana continue to make giant leaps in semiconductor research growth with a first-of-its-kind agreement with a cutting-edge European nano- and digital technology innovation hub.
Imec joined Indiana Gov. Eric Holcomb, U.S. Sen. Todd Young and Indiana Secretary of Commerce Brad Chambers and Purdue President Mung Chiang in announcing the partnership during the SelectUSA Investment Summit, an annual international investment event by the U.S. Department of Commerce near Washington, D.C.
"Purdue University and the state of Indiana have become the heart of the silicon heartland. Purdue is the most visible and forward-leaning university in the U.S. in the semiconductor degrees program, in research innovation to rewrite the economic equation of on-shoring fabs and packaging, in industry partnership with over 20 leading companies, and in national leadership in CHIPS for America's execution," Chiang said. "Today we mark a milestone for semiconductor collaboration between the U.S. and Europe by forming the R&D partnership with imec – the best example of successful collaboration across universities, companies and the government. We warmly welcome the imec ecosystem to the home of America's top four engineering and top five patent-receiving university."