From Purdue University: Purdue and India establish milestone semiconductor alliance; sign partnership in the presence of Minister Ashwini Vaishnaw
The Krach Institute for Tech Diplomacy at Purdue today announced the creation of the Next Generation Tech Diplomacy Leaders Program following the acquisition of the Global Mentor Network (GMN), the world's leading virtual mentor network. The Institute's next gen program combines scholarships, fellowships, internships, virtual mentorship, leadership training and lecture series into an integrated platform to accelerate the development of tomorrow's transformational Tech Diplomacy leaders.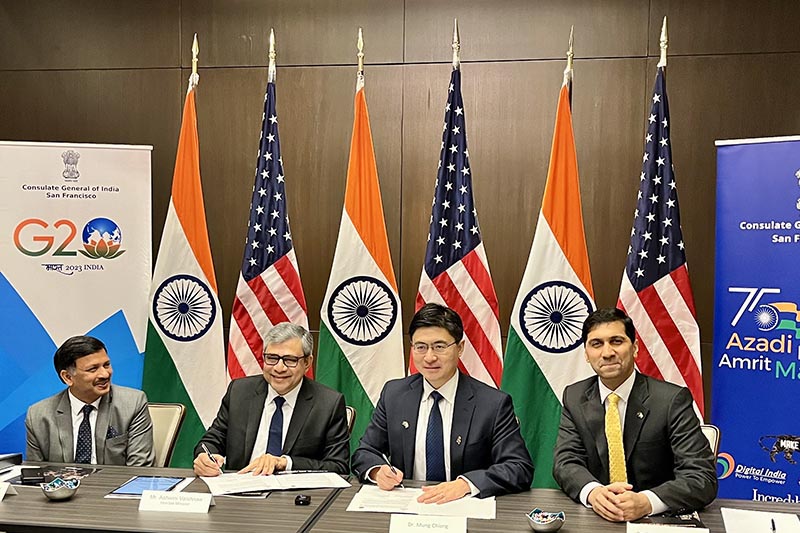 WEST LAFAYETTE, Ind. – Purdue University continues to rapidly expand its global boundaries in semiconductors, announcing a transformative agreement to become the flagship academic partner and collaborator with the government of India.
With the announcement, Purdue is established as a key collaborator with India and the India Semiconductor Mission (ISM) in skilled workforce development and joint research and innovation in the burgeoning fields of semiconductors and microelectronics.
Purdue signed the agreement Tuesday (May 9) with the leadership of the India Semiconductor Mission in the presence of Honorable Minister Ashwini Vaishnaw, who is in charge of Railways, Communications, Electronics and Information Technology in India and also oversees the country's semiconductors program. It marks the second major global partnership Purdue has announced within the last week. On May 3, Purdue, the state of Indiana and the Indiana Economic Development Corporation announced a partnership with Belgium-based imec. This is on top of numerous other Purdue forward-leaning efforts over the last year-plus to address critical national semiconductor needs.