Director and Chairman of the Krach Institute Participated in National Security Semiconductor Roundtable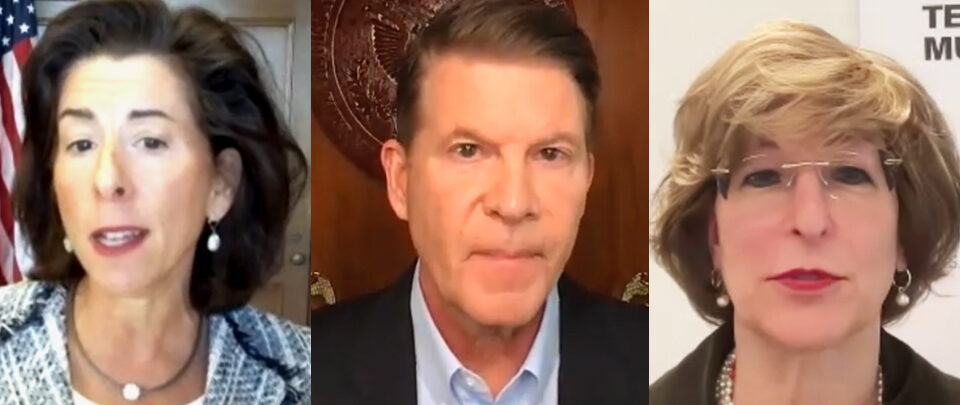 Director Bonnie Glick and Chairman Keith Krach joined Secretary of Commerce Gina M. Raimondo to emphasize the importance of domestic microchip production to counter supply shortages.
WASHINGTON – Today, the Krach Institute for Tech Diplomacy at Purdue's Director Bonnie Glick and Chairman Keith Krach, joined Secretary of Commerce Gina M. Raimondo in a bipartisan roundtable discussion on the current state of the global semiconductor supply chain, emphasizing the need to support domestic manufacturing. Other participants included U.S. Senator Todd Young of Indiana, U.S. Representative Doris Matsui of California, Lieutenant General H.R. McMaster, former Deputy National Security Advisor Matthew Pottinger and former Google CEO Eric Schmidt.
With a declining share of global microchip production, the United States is now in a vulnerable position, relying on China and Taiwan for the most sophisticated semiconductor technology.
"At the Krach Institute for Tech Diplomacy at Purdue, we strongly endorse rapid passage of the Bipartisan Innovation Act," said Director Glick. "The longer we delay, the more we leave open the door for the Chinese Communist Party to drive toward its Made in China 2025 goal."
The need for immediate congressional action is vital not only for the U.S. economy, but also for national security and the preservation of free societies. In the technology sector, lawmakers and private sector leaders both must invest in domestic chip production to prevent any future vulnerabilities.
"At a time when democracies face an urgent threat, government investment in U.S. technological leadership is a strategic national imperative," said Chairman Krach. "It will also serve as a powerful catalyst for additional private-sector investment and send a clear message to our citizens, allies and the Chinese Communist Party itself that America is united in its commitment to preserve our precious freedom from authoritarianism."
Congresswoman Matsui and Senator Young are leading the charge in Congress to encourage immediate action, citing the $52 billion the Bipartisan Innovation Act would invest in domestic semiconductor production and innovation.
"We have a national security imperative to ensure we don't fall behind China in our technological innovation," said Senator Todd Young. "Bipartisanship portrays a strong message to China, [showing] we are united in this effort and determined to do whatever it takes to defend our country and our way of life."
The full Semiconductor National Security Roundtable can be viewed here.
ABOUT THE CENTER FOR TECH DIPLOMACY AT PURDUE
The Krach Institute for Tech Diplomacy at Purdue is an independent, non-partisan 501(c)(3) founded in 2021 to advance freedom through trusted technologies and democratic principles. It brings engineering expertise to the intersection of technology and U.S. foreign policy and serves as a go-to resource on critical technology issues for the diplomatic community and policymakers, while partnering with industry, academia, and government.
For more information, visit www.techdiplomacy.org and follow the Krach Institute for Tech Diplomacy at Purdue on Twitter, LinkedIn, and YouTube.